About
DC Nation is a organization that appears on Cartoon Network on Saturdays and about DC Shows, Beware The Batman, DC Nation Shorts, Green Lantern: The Animated Series, and Young Justice. The organization is a production by Warner Bros. Animation.
Featured Article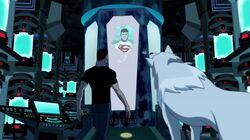 Match is a Superclone created by project cadmus, he was made to be tested as a full kryptonian when suddenly he was kept in a pod.

Welcome to the DC Nation Wiki
This wiki is about the DC Nation Shows that anyone can edit! We are Currently harboring 84 articles and 136 images since NOVEMBER 14, 2011 .

DC Nation Headlines
DC Nation has been rescheduled to air back into 2013. (11/10/2012)
Designing Updates are getting in progress after looking at other wikis for weeks (All Rights Go To Their Respectful Owners)! (11/10/2012).